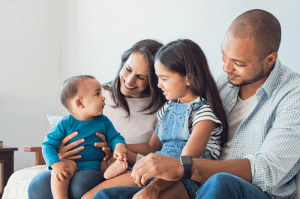 Capital Area Successful Start (CASS) is the name of the Shawnee County collaborative that receives funding from the Kansas Children's Cabinet and delivers services to at-risk children in our county.
This funding is part of the Master Tobacco settlement dollars that flow into our state and utilized to support efforts focused on school readiness. To learn more about the Kansas Children's Cabinet, visit kschildrenscabinet.org. All efforts funded by the Kansas Children's Cabinet align with the Blueprint for Early Childhood. More information about the Blueprint for Early Childhood can be found by clicking here.
Shawnee County is one of the targeted priority communities in our state to receive this funding because of the number of at-risk children in our community and the low test scores reported by USD 501 Topeka Public Schools.
Everyone can invest today in tomorrow's success by taking the time to Talk, Read and Play with the children in their own community! Click here for great ideas to help you talk, read and play more!
Our Local Approach
The CASS project partners utilize the following guiding principles as their theory of change:
Most critical brain development occurs during the first few years of life.
Family-centered services focusing on developmental parenting, family strengths and parent/caregiver empowerment positively impact the nurturing skills and the competency levels of parents and other caregivers.
If caregivers/parents receive information about best practices and coaching support to transfer that
knowledge into practice, child care program quality will improve and health and development of children ages birth to 5 years old will be positively impacted.
Partnerships and positive relationships between parents, caregivers and program staff are important and will impact children's development.
High-quality early learning environments allow children to grow and gain skills needed to be successful in school and life.
Project services fall into three basic areas:
Early Identification
Home Visitation
High-Quality Early Childhood Learning Experiences
Services for at-risk children and families are customized to fit the unique needs of each family, with program intensity varied by family needs and risk factors.
INVESTING TODAY FOR TOMORROW'S SUCCESS!