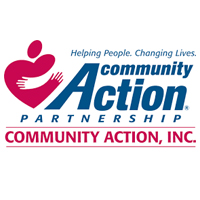 Community Action, Inc.'s Early Head Start/Head Start programs provide services to prenatal women and children ages birth to 5 years.
Community Action, Inc., supports high-risk families by:
Conducting health and development screenings.

Helping to obtain preventative medical care.

Physically and social-emotionally safe and supportive care in a center-based setting.

Parent growth through adult learning opportunities.
Visit our website: http://www.wefightpoverty.org/